A fractured, worn, or decayed tooth can cause daily discomfort. Left untreated, this can cause serious oral health problems.
A dental crown restores strength to a damaged tooth by covering the visible portion of its structure, protecting it from further damage.
At his Colorado Springs, CO, office, Dr. Jason Streeter offers same-day crowns that provide patients with cosmetic and restorative benefits.
Benefits of Dental Crowns
Following extensive removal of tooth decay, treatment for trauma, or a root canal, our dentist,
Jason Streeter
, may recommend a dental crown. Crowns restore strength to a tooth's structure and protect the remaining natural tissue. They can also
prevent the need for a tooth extraction
following a root canal. Patients who receive this type of porcelain restoration can enjoy:
A More Attractive Smile
Dental crowns offer cosmetic benefits. If one or more of your teeth are worn, discolored, or damaged, Dr. Streeter can cover those teeth with a custom cap that blends in with your smile. A crown made of porcelain can even be placed on your front teeth.
A Convenient, Comfortable Treatment
Thanks to our in-office technology, we are able to offer same-day crowns. Our Colorado Springs dental practice offers digital scans and in-house milling technology that allow your teeth to be prepped, scanned, and fitted with a new crown during one convenient visit to our dental office. We also use dental lasers for pain-free treatment.
Natural-Looking Results
The final look of your crown matters just as much as its function. Your dentist will take great care to ensure that your crown looks natural. Each crown is digitally designed and milled under the direct supervision of your dentist to ensure that it is the best possible fit. In addition to traditional porcelain, our dentist uses IPS e.max® crowns that offer natural translucence and KATANA™ Zirconia crowns that offer unmatched strength.
Preservation of Natural Teeth
In some cases, a dental crown can prevent the need for a tooth extraction. While composite resin fillings can address minor chips and pockets of decay, crowns are the preferred treatment for significant tooth decay and damage. A damaged tooth is susceptible to tooth loss, and the loss of a tooth can often lead to bone atrophy and other dental problems. By preserving a natural tooth after a root canal or similar treatment, our dentist is able to preserve patients' jawbone health and prevent the need for expensive restorative treatments like dental implants.
Improved Oral Comfort
If your teeth are worn or damaged, you may experience significant discomfort when chewing. Many patients find relief from sensitivity or tooth pain following the placement of a dental crown. Additionally, each step of the dental crown treatment will be performed with your comfort in mind. We also offer sedation dentistry to help you relax during the procedure.
Schedule Your Dental Crown Consultation Today
Our Colorado Springs, CO, dentist is committed to delivering dental crowns that are both functional and aesthetically pleasing. To make your treatment more affordable, we offer an in-house discount plan and financing via GreenSky® or CareCredit®. Our office is in-network with all major dental insurance providers.
Dr. Streeter is passionate about advancing his studies, and he is a member of many prestigious dental organizations:
American Dental Association
Colorado Dental Association
Colorado Springs Dental Society
SPEAR Study Club
You can learn more about your options for restoring a damaged tooth during a consultation. Please contact our office online or call:
"His Crowns Are Beautiful"
What Patients Are Saying
...Dr. Streeter and his staff are STILL the BEST. He expertly replaced and reset a crown which has since felt 1000% better after he completed it than my previous dentist installation. I feel a complete difference with his reset in my daily chew which unknowingly was corrected in this process. He is light with his hands, but structured enough to get the job done without causing unnecessary pain. He doesn't suggest nor charge for unnecessary procedures...

View On Google
Dr. Streeter and Staff are a welcome pleasure to treat my dental needs. Dr. Streeter is a true professional that actually takes the time to explain his treatment plan to you & offers the finest and latest technology to his customers. His crowns are beautiful, fit well, and you will be amazed by your new SMILE. I highly recommend Streeter Dental to EXCEED your dental needs.

View On Google
"Genuinely Cares for His Patients"
More 5-Star Reviews
Dr. Streeter and his staff take the edgy feeling away of going to the dentist when you walk into his calming and beautifully remodeled office while his friendly assistant Sophia greets you with a smile. I love that you can see Dr. Streeter takes pride in his work and genuinely cares for his patients. He uses the latest technology which also gives me confidence that my family and I are getting the utmost care possible. I highly recommend Dr. Streeter and his staff for your dental needs.
View On Google
I had a crown pop off on a Sunday afternoon. I left a message for Dr. Streeter. My message was returned less than 30 minutes after the office opened on Monday. They were able to get me in that afternoon. Dr. Streeter worked tirelessly to cement the crown again instead of just making a new crown. I appreciated that he took the time since the crown was not broken and use it instead of making a new crown which would have been a more expensive option for me. Thank you Dr. Streeter!
View On Google
Preparing the Tooth Can Seem Scary
But We Take Extra Measures to Ensure Your Comfort
What to Expect during Treatment
At
Streeter Dental in Colorado Springs, CO
, we use an in-house milling system that saves patients from needing to wear a temporary crown for two weeks or longer while they wait for their final restoration. Instead, we can provide a permanent restoration in one day. Here's how:
We can place crowns in just one appointment.
"You Leave with a New Crown Only Having One Dentist Visit"
Patients Are Impressed with Our Technology
I am very pleased with the work I've had done at Streeter Dental! Dr. Streeter is personable and has genuine concern for his patients during and after treatment. He's performed several procedures for me, crowns and fillings. He takes his time and makes sure every detail is done right. His whole staff at Streeter Dental is friendly and professional. I highly recommend! -by Jim Hopkins

View On Google
Dr. Streeter is extremely knowledgeable and has the latest dental technologies. He can measure where a crown goes electronically, computer generate a new one, and then make it while you wait. You leave with a new crown only having one dentist visit. Awesome!

View On Google
How Much Does a Dental Crown Cost?
Generally, crowns range in price between $800 and $1,700. However, it's important to note that the price varies based on how many teeth are being treated, whether other treatments are needed, and the type of material used for your restoration.
We offer our Colorado Springs patients a variety of options, from traditional porcelain-fused-to-metal to custom materials that excel in strength and beauty. One of our favorite options is e.max, a type of porcelain known for its natural translucence and lifelike aesthetics. These qualities are ideal for teeth that show when you smile. e.max is also known for its strength. However, if you need even greater strength to support a molar, we also offer KATANA Zirconia—a premium-grade zirconia with a beautiful blend of aesthetics and extreme strength.
Crowns cost between $800 and $1,700.
To get accurate pricing based on your personal needs and goals, we suggest requesting an appointment where we can explain which options are best for you. Then, we can calculate any insurance coverage available and give you more accurate pricing. We also offer financing to assist with out-of-pocket costs.
If a Crown Isn't the Right Solution
Our Dentist Provides Other Options
If you have issues that don't necessarily call for a dental crown, Streeter Dental in Colorado Springs offers a wide range of treatment options to conceal and correct minor issues. Popular solutions include veneers and dental bonding, which uses a composite resin material to fill cracks, chips, and stains. A veneer may be recommended to improve the appearance of small or misshapen teeth. Our dentist or a member of our dentistry team will be glad to explain each option in detail during your visit.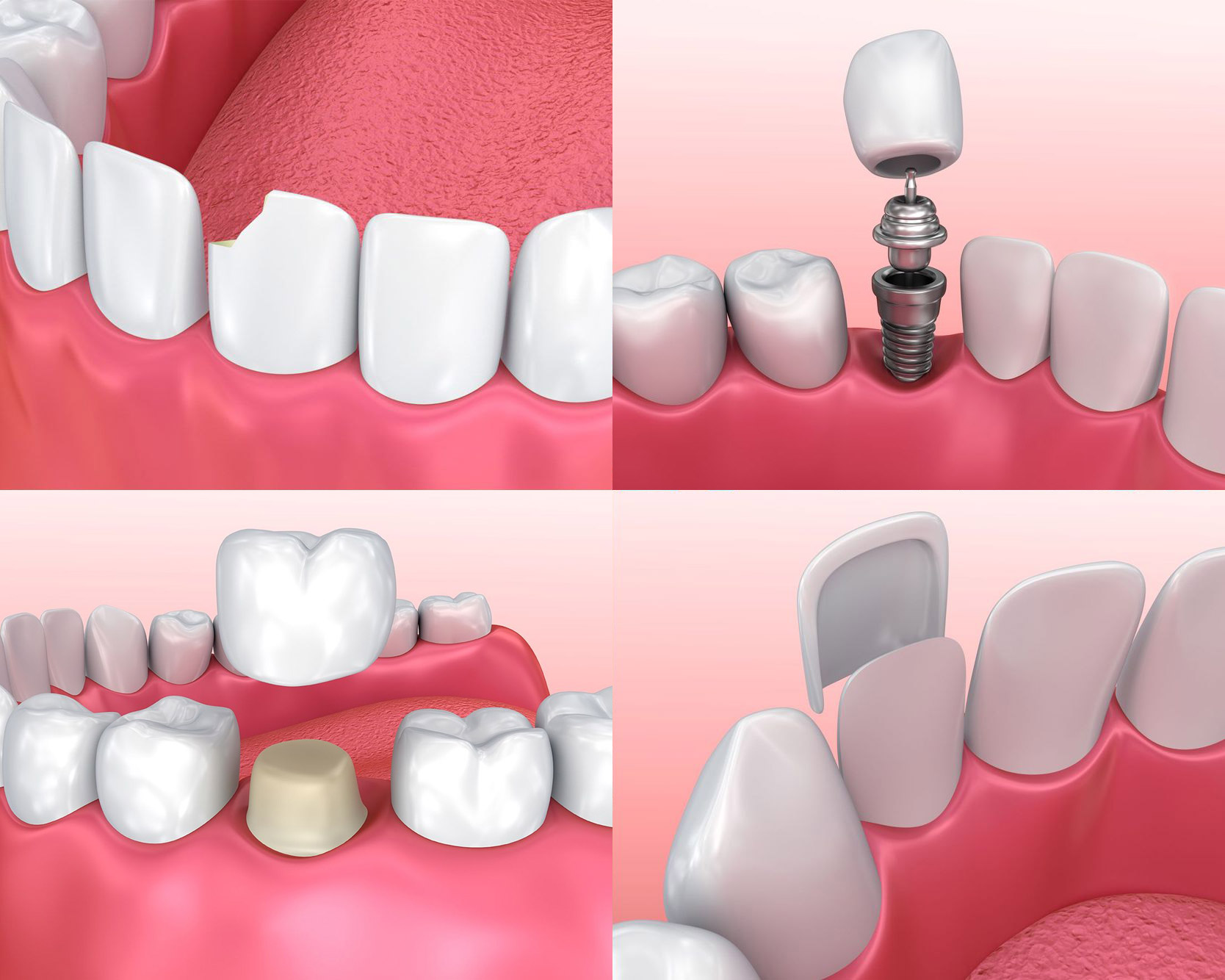 Our team will help you choose a treatment suited to your needs and budget.